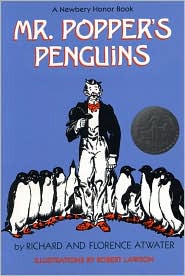 Well, now, that doesn't alliterate at all. What does alliterate is Newberry Honor book
Mr. Popper's Penguins
, by Richard Atwater. Hilary handed it to me and told me it would make me happy (I LOOOOOOOOVE penguins!) Though perhaps not quite as much as Mr. Popper.
Mr. Popper was a disheveled man. He painted houses during the day and read all about the Arctic and Antarctic regions in the evening while his wife did the mending and his children were asleep. By Autumn, all of the houses have been painted and all of the kitchens wallpapered and no one in the small town of Stillwater will have anything for Mr. Popper to do until Spring! Luckily Mrs. Popper is confident that they will have just enough money to scrape by through the Winter until Mr. Popper has work again, though "it is a little hard to sweep with a man sitting around reading all day." Then, one evening, after the children have gone to bed, Mr. Popper turns on the radio to listen to Admiral Drake broadcasting all the way from Antarctica! The Poppers can't believe their ears when it sounds as if Admiral Drake is addressing Mr. Popper directly! He thanks Mr. Popper for the wonderful letters he wrote them, and says that a mysterious reply will be arriving shortly!
Of course, it's a Penguin that is delivered to their front door the very next day! But what do you do with a Penguin in the town of Stillwater? And what do you do with TWELVE?
I found this a fantastic book, both for boys and girls (although the main characters are a man and a penguin). On that note it's rather interesting that, though there are children present in the story, they are not the main characters, and do not even really have their own personalities! The main character is, indeed, a grown man - something I don't think is seen very often in juv. books these days. I think it is good though, not just that kids can have adventures, but that grown ups can have adventures and kid level! It is definitely a book for younger boys - below ten, I should think (although for some light reading, I knew plenty of grownups who appreciate it as well!) It was written back in 1938, so there's none of today's recognized technology, and is generally much simpler - only the one plot line, and much less adventure. Compared to today's books it might seem a bit simple and even slow, but it is nonetheless truly entertaining. I laughed out loud quite a bit.