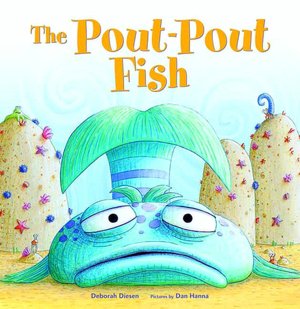 So I always seem to be reviewing Juv. Fiction or Teen Fiction. Now I'm going to start throwing Picture Books into the mix. Yay! But let's face it. We've ALL read Goodnight Moon and Cloudy With A Chance of Meatballs. They're wonderful books, but you already know that. So I'm going to try to keep it to more recent books that you might not have heard about.
The Pout Pout Fish
, by Deborah Diesen, is one of my FAVORITE picture books! Whenever I have to do Storytime at work (which is rare), I generally end up with a fishy theme so that I can read this!
It's about, well, <---That Guy. He's a "Pout Pout Fish, with a Pout Pout face" and he "spreads the Dreary Wearies all over the place!" It's not his fault, he claims, it's just how he is. Look at his mouth - it pouts. If he could be happy, he would, but because his mouth lives in a frown, he might as well be miserable. Various sea creatures (all fantastically and brightly illustrated) try to reason with the Pout Pout Fish and try to convince him that he's being absurd, but he just Blubs them off and sinks deeper and deeper into his own misery. Then, at the very end, a beautiful swishy fish comes swimming into view. She doesn't stop, she doesn't try to reason with him, she just gives him a big fat KISS! and swims away! Suddenly, the world is a happier place and the Pout Pout Fish turns into - well, you'll have to read the book!
It's a great read aloud - especially the 'blub's. The pictures are large and bright enough to be seen by a group sitting on the floor. And the repetition is great for kids to join in on! Also there's apparently a sequel -
The Pout Pout Fish in the Big Big Dark
, that I have to get into the store and read.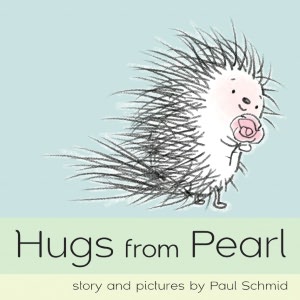 Picture books are short, so you get two!
Hugs From Pearl
, by Paul Schmid, is a newish book that I just read the other day. Pearl LOVES hugs. She loves receiving them. She REALLY loves giving them. And everybody thinks Pearl gives the best hugs! Or she would. Except she's a porcupine. And hugs from porcupines can sometimes be "ouchy". What's a porcupine to do? I bet you can't guess the solution that Pearl comes up with while looking at a bunch of thorny roses!
It's not exactly a book that will get a crowd of pre-schoolers excited and participating. But with its simple, elegant illustrations and huggy theme, it is DEFINITELY a book that should be read often. Complete with hugs. ^_^